First of all, I'd like to thank Deirde at A Storybook World for this cool blog award: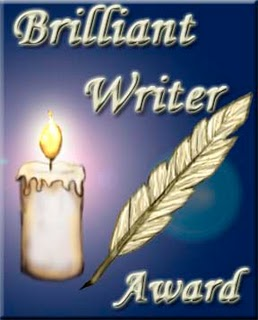 Wow – can't believe how this summer is flying by – I mean, really fast, though maybe not this fast:
This is the US military's new unmanned Falcon HTV-2 (Hyperonic Technology Vehicle 2), touted to be the fastest plane ever at a top speed of  Mach 20, or 13,000 miles per hour.
13,000 MILES PER HOUR!
That's London to Sydney in less than an hour, according to this article in the UK's Guardian.
That's amazing. But what's even more amazing is that the military lost the plane 36 minutes into its test flight.
That's right.
Lost. The. Plane.
Millions of dollars in time, research, and materials, not to mention countless man-hours, literally vanished into thin air.
The Falcon HTV doesn't have a great track record. There were only two built: Falcon HTV-1 and Falcon HTV-2.
Last year, the Falcon HTV-1 was 9 minutes into its test flight when, according the Guardian article, the computers detected a problem and sent it into the ocean for safety reasons.
One vanished into thin air, the other at the bottom of the deep blue sea.
How cliche.
So much for the human attempt to break its own record.
To see how nature does it, watch this video of a REAL falcon diving, in which her top speed is recorded at 242 mph.
Will the Real Falcon Please Stand Up?!
Now that's more like it.
So, back to how fast the summer is flying by and what I'm working on.
I've got two projects right now – writing a novella set in the Watcher world, and publishing Watcher itself.
One of the things I've learned about self-publishing is that it means wearing many hats.  A lot more than I realized. In addition to writer, editor, publisher, distributor, and publicist, I'm learning to be a book designer.
If you're new to the industry like I am, there are all sorts of things to consider when you want to get your book out for public consumption. Not only do your story and your words have to BE good, they have to LOOK good. Here's an example of some of the challenges I've recently faced:
~ learning all of the details that go into designing a book…all the little details I've always taken for granted, such as what you want in the header and/or footer, where to place the page number, what to include on the copyright page, what font to use, acknowledgments, dedication, author bio…
~ deciding on a cool font to use for my title and chapter headings. OMG – there are thousands and thousands to choose from. But it's critical – an attractive title font goes right along with the cover, and helps make the inside part of the book look professional.  
~ realizing that all the best designed books use the title font for the first letter of each chapter. I only had to replace 65 of them by hand.  
~ pushing the chapter headings down the page so the first page of the chapter starts about 1/3 to 1/2 way down, and of course, at the same level as all the other chapters. Styles makes this easy if you've used them correctly. I discovered I hadn't. Doesn't sound too bad, but I have a prologue, an epilogue, and 63 chapters…  
~ adding extra pages at the end of certain chapters so that all of the new chapters start on the odd (right-hand) page – and the heading placement is the same as all the others. This is where I discovered that section breaks can be a real pain in the ass.  
~ fighting with styles and section breaks so that the header doesn't print on the new chapter pages (the ones with the chapter heading), but maintains the sequential numbering and the proper even- and odd-page header set-up on all the rest.  
~ discovering when I thought I was all done with the inside formatting that the first paragraph of a new chapter or a new section is NOT indented. Yeah, never realized that one. Not only do I have the  prologue, and epilogue, and 63 chapters, I have several section breaks PER CHAPTER. But not all is lost. I think I can fix this with <cringe> modifying the styles so that I don't have to remove the indents by hand…without blowing up my whole document. I hope.  
Once the inside is finished (nearly there – I can almost taste it), then it's time for the cover.
Which I am NOT doing the artwork for.
No way. No how. Don't got that creative bent. Even my stick figures are lame.
But…I know peeps. And I got a peep working on my covers (notice I said covers with an 's' – Watcher is only the first of a trilogy).
In the meantime, I'm putting together a plain cover for a test run. I'm planning to print up a half-dozen proofs as review copies for some special readers I've been holding in reserve.
But what that means is that I still have to put together a temporary cover layout, which includes front, back, and spine.
When that's done, I'll convert it to PDF, hopefully maintaining all of my painfully-arranged formatting, and hand it off to my indie publisher, Dark Dreams Publishing (more on that later). 
So…that's what I've been up to during this rapidly-passing summer. I just wish it would slow down to falcon speed and not try to be a Falcon HTV.
But it may a bit late for that – too soon I know I'll look back and say, "Where did my summer go?"
Hopefully I'll have more to show for my efforts than the memory of a vanished blip on a radar.